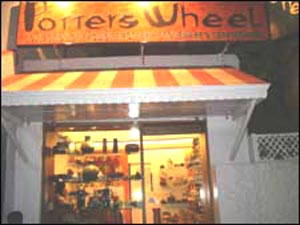 Who can forget the famous Demi Moore pottery scene in the Ghost? That made a lot of us want to learn some moves so we could pretend to be potting... er, puttering around on the potter's wheel.

Then Potters Wheel (without an apostrophe, causing a zillion compilation errors on my word processor) comes along, and boy they must have some moves we would do well to learn! The stuff here is awesome - vanilla and niche, vibrant and laid-back, prosaic and inspiring, but all very gracefully elegant, quite like the beautiful Bilkees Naqvi who designs what her heart drives her to.

Bilkees and her store will charm you. Together they will give you wonderful gift ideas. It might be a good idea to carry a little extra cash because you will want to buy more than you wanted to.

The earthen and stone pottery make for delightful dinner sets, coasters, cups and saucers, and a LOT more. You must also get a dekko at their studio pottery - it's very contemporary.

There you go - treat yourself to some great stuff that is not mass produced but is delicately, painstakingly and lovingly hand-crafted.