Potti Sriramulu Telugu University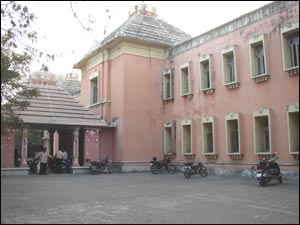 Situated in the heart of the city, yet hidden away from the public eye, is the Potti Sriramulu Telugu University. One of 5 language universities in India, it was established by Dr. N T Rama Rao to propagate the arts he so loved.

It's a place of extreme serenity, and the silence in the halls of this building can mislead a person into thinking that it is deserted. But it is just the quiet determination of the students here deeply immersed in their work - nay, their passion. This is what the students here share - a deep passion for their chosen fields, inspite of the pitfall that is the diminishing value for fine arts in today's world.

It was a pleasure to see a world so untouched by materialism, a stark constast to the "incomplete without the hottest wheels and the latest cellphone" college student that roams the Hyderabad roads.

A visit to the Telugu University begs the question, "How many of us would be happy in the jobs we have, if money was not an issue to consider?" And I think the students here would be among the very few not squirming in their proverbial seats.
POTTI SRIRAMULU TELUGU UNIVERSITY SNAPSHOT
Listed In

Address

Telephone

Fax

Email

Distance

Website

Year Started

Timings

Closed On

Prices

Payment Option(s)

Cash, Cheques, Demand Drafts

Closest Bus Stop

Closest MMTS Station

Add New Field:
EVENTS AT POTTI SRIRAMULU TELUGU UNIVERSITY
There are no events at Potti Sriramulu Telugu University scheduled currently.
LEAVE A COMMENT
fullhyd.com has 700,000+ monthly visits. Tell Hyderabad what you feel about Potti Sriramulu Telugu University!