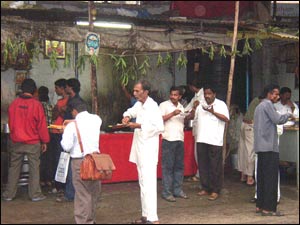 It will be eight hours at least since we've had our last meal. So the first thing that we want to do every morning is to... uncontrollably run to the john. The next thing is to keep those hunger pangs quiet. And if we're doing that, why not do it in style?

Once you've eaten an idli, you know that the way to judge an idli is by its chutneys, podis and sambhars, and not by anything else. And this place takes off the option of the sambhar as well. We're left only with chutney and a podi. We don't need anything else.

Pragati is always mobbed to the hilt. Being on the road is not a bother. People of all kinds are addicted to the heavenly chutney-podi combination here. The coconut chutney here is unusually fluid, and the idlis are drowned into it. They sometimes even float. Add in the podi over them, and you can ask them to show you where the cook is, so you can kiss him.

You do not care particularly what the base is. In the sense that it can be either idli, upma or pongal - heck, the chutney-podi will make even strands of hair taste good!

No particular recommendations here, except that make sure you bring some bucks (Rs. 10) before you come to taste this piece of heaven.
EVENTS AT PRAGATI TIFFINS
There are no events at Pragati Tiffins scheduled currently.