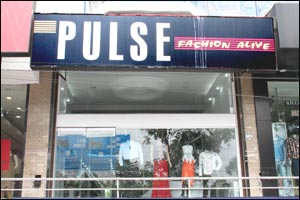 The only people making money out of the clothing boom are the construction guys. Every day, one clothes store folds and another opens in its place. Wonder how they come up with so many new names all the time. The newest such store to open in the Banjara Hills area is Pulse. I just hope this store stays long enough for my review to see the light of day.

The store itself is two floors full of an amazing range of clothes for both guys and gals. For guys, they stack shirts from brands like Hysteria, Tommy Hilfiger, Evolve, Passion et al – a pretty impressive collection that doesn't tax the pocket. A wide variety of Jeans and trousers for around 600 bucks from Denim and H2O, and lots of shirts in interesting designs, make up the rest of the store.

The girls' section is also huge, and makes for some wholesome shopping. They have a smorgasbord of tops, blouses and skirts here – everything from sequins to lace and beads – but none of them are branded. They also have a miniscule cranny full of the usual wooden junk that's sold as accessories just to engage you in case you are bored of the clothes.

Overall, it's a decent place for the bargain shopper, which we Hyderabadis definitely are.