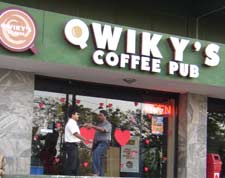 When it first started Qwiky's was best known not for its brews, but for its huge, comfy leather couch, an bvious salute to Central Perk, the coffee shop from sitcom Friends. This also the first coffee shop with the whole 'pub' twist to it, and bar stools have since become common at other places too. Despite great initial curiosity though, Qwiky's hasn't
fared as well as the others that lifted its formula.

True to its pub image, Qwiky's sees maximum action at its 'bar-counter'. This is the best way to sample this place, get a drink, read the papers, chat with your caffiene-medium (otherwise known as the 'brew-master') and you're out of there in about 30 minutes. There's really not much else to take in. Qwiky's, Begumpet now shares space with Pizza Corner, presumably to likewise share customer-base, but the combination of coffee and pizza doesn't appear to be happening.

In comparision the Qwiky's outlet at Lifestyle does roaring business, because shoppers are a hungry lot and since they are at a department store, they don't mind paying a little extra. For this is still one of the more expensive coffee places around.

When it comes to hot drinks, people prefer the Hazelnut Latte or the chocolate-flavoured Cafe Mocha. For something cool, try the ice-cream-blended Frappe or the Granitas, which are also available in blackcurrant and strawberry and go well with the sandwiches. Qwiky's has good sandwiches, by popular consensus and lot of junta only come here for the Chicken Tikka, Thai Chicken Satay or Veg. Sheekh Sandwiches, all of which are large submarine-type servings with chips on the side. If you're at
the Lifestyle outlet, try the Crumb-Fried Chicken Panini, quite a filler at Rs. 70 for a full-size.

Pastries like the Black Forest and Chocolate Truffle are available in super-sizes, but if you want something a little different try a slice of the Rum-N-Raisin Cake. The Chocolate Doughnut and Brownies are also quite decent. All of these pair up great with hot coffee.

As the name suggests, this isn't a place you'll want to spend too much time at. But one of the things that works for Qwiky's is that unlike its neighbours, it isn't jam-packed which is a refreshing change. A nice enough place to get your mid-day perk, but the competition is heating up.
EVENTS AT QWIKY'S COFFEE PUB
There are no events at Qwiky's Coffee Pub scheduled currently.