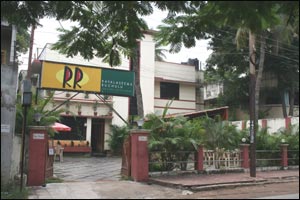 You'll need to asbestos-proof your palate, they warned. Even Nagarjuna eats here, they exclaimed. This is it, they said. The ultimate, the authentic, the definitive place for all the mouth-watering treats of the Rayalaseema. And were they right? Well, sort of.

Rayalaseema Ruchulu did a lot of things right: the food is good, the dcor is totally down-to-earth, and the service is affable. But we wouldn't call this the last word in all things Andhra - and the food is certainly not as spicy as they project it. If you want, however, to find a fair cross-section of the region's cuisine, and taste some vintage recipes, then this is the place for you. Besides, it's one of the few places in town that is secure enough to base its menu entirely on one geographical area and not include Chinese or Tandoori just to play it safe.

For starters, you must try the Kodi Vepudu and the Chapa Fry, both of which are spicy and crisp-fried. Order the wonderfully spiced buttermilk at the start of your meal, it's quite addictive. RR has some interesting dishes that you might not find anywhere else in town, like the Neyyi Kodi, which is made from a 100-year-old recipe and is on the heavier side. You won't need too many accompaniments with this on your plate.

The Jonna Rotte here is very good, and goes great with the Gutti Vankai, the Gongura Mamsam or the Naatu Kodi Iguru. Unfortunately, there's not too much for the vegetarians to get excited about, but you do have a selection of pulusu (a sort of watered-down dal), that changes everyday. Also try the Dumpa vepudu and the Bhendi Fry, which are pretty good. Top off your meal with the carrot halwa or the Rice Payasam.

The interiors are very non-fussy and with a nice feeling of space. RR is on the expensive side, which is perhaps emphasized by the disappointing portion-sizes. But if food, like your grandmother used to serve it, is one of your weaknesses then you'll be drawn to Rayalaseema Ruchulu.
EVENTS AT RAYALASEEMA RUCHULU (CLOSED)
There are no events at Rayalaseema Ruchulu (Closed) scheduled currently.
LEAVE A COMMENT
fullhyd.com has 700,000+ monthly visits. Tell Hyderabad what you feel about Rayalaseema Ruchulu (Closed)!