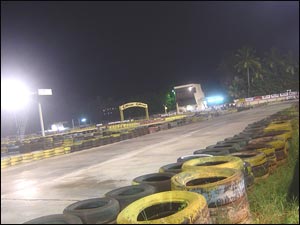 Where do you go when watching movies and going bowling becomes too run-of-the-mill? Why, go-karting, of course. For a mere Rs. 125, Runway 9 offers you a simulated Formula 1 experience dizzyingly close to reality.

Runway 9 claims, and rightly so, to have the only serious go-karting course in the city of Hyderabad. Their 711-meter curvaceous cemented track is the longest in AP, is safe for kids, and can be remodelled.

To complete the entertainment experience, Runway 9 offers a range of considerably less exciting games such as pool, archery and shooting. An in-house restaurant serves food and hosts banquets. Sadly, Runway 9's excellent corporate patronage has only led to the food here being thoroughly overpriced.

Chequered Flag is the only F1-themed pub in the twin cities. With Formula 1 merchandise peering at you from the walls and threatening to jump off the ceiling, it is difficult not to be impressed by the sheer effort that has gone into the interior decoration. F1 races are screened here no matter what unearthly hour they occur at, and racing aficionados cluster here regularly to cheer for their favorites while sipping on alcohol-laced coffee. Unfortunately, however, no F1 merchandise is sold at the pub.

Runway 9 became a household name this New Year with their smash hit of a New Year's Party hosted by the top four pubs in the city. They plan a similar party for the public during Dandia. Large corporate groups often book the place for private entertainment, and a per head charge of Rs. 325 is levied for a complete Runway 9 package deal, including go-karting, games and food.