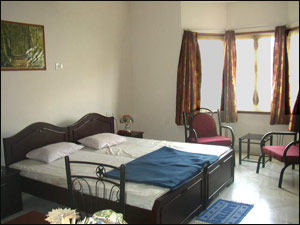 Seasoned travelers claim that the staff at guesthouses and inns, somehow, seem more hospitable, the service they render more personal, than their counterparts at fancy hotels. The staff at the family-run Sai Sparsha do their bit, and their best, in perpetuating this stereotype; they are unusually genial in their hospitality. This is their USP, the factor that clearly sets them apart from the competition.

In other respects, Sai Sparsha is like several other guesthouses that dot the Hi-Tec City landscape. For one, it operates out of a 3-storey house built in a quiet residential colony. This makes the guesthouse very small; there are only 4 rooms available for accommodation (you need to book a room a minimum of 2 days in advance).

On the upside, the unit is spotless, and they welcome all kinds of customers - tourists, executives, small wedding parties, those with families, those without.

Like most other guesthouses, Sai Sparsha also serves a complimentary heavy breakfast. But they also go that extra mile (the one that makes all the difference between a satisfied customer and a happy one) - they give their customers lunch tiffins, stuffed with fresh South-Indian food, for a small additional fee.

However, courtesy is a 2-way street at Sai Sparsha; the management lives by certain strict rules that they expect their guests to adhere to. For example, alcohol consumption is banned in the common seating area (because families with children use that area, too).

The rooms are simply furnished, fitted with the usual amenities (air-conditioning, 24-hour hot water supply in the bathrooms, TV sets with cable TV etc.) and kept speckless by the housekeeping staff. And they are not pricey either - they charge Rs. 1,650 per 24-hours for an occupancy, single or double.