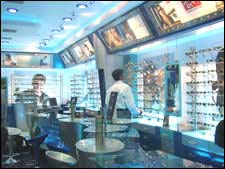 Sunglasses are useful. Not only do they offer vital protection from the harmful UV rays of the sun, they also let the world know you are cool. And that you belong to an elite group of people that includes bigwigs like Sanjay Dutt, Suniel Shetty, Stevie Wonder and Count Dracula.

Shades, the eye-fashion boutique, is, in fact, owned by the two musclemen from Bollywood, Sanju baba and, well, Suniel Shetty. But how is Shades different from any other optical store, and why should you, the people of Hyderabad, show the slightest interest in what two filmstars are trying to sell you? Well, there's no other place that promises you the same range of designer eyewear. Shades does not advertise with us, so rest assured we're not sucking up.

The big brands here include MaxMara, Safilo, Armani, Gucci, Diesel, Police, Yves St. Laurent, Vogue, Celine Dion, DKNY, Hugo Boss, Cour Carre, Boucheron, Ray-Ban, Steroflex and Cartier, among others. The prices might range anywhere between Rs. 750 and Rs. 50,000 for a pair. No, not much of an economy range here.

A fully-equipped optometrist's lab (complete with optometrist) is also part of the store, and you'll find all shades of colored contact lenses.