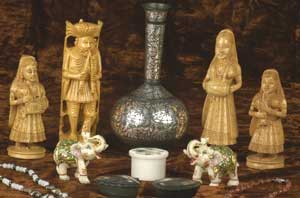 Sheela's Arts & Crafts was opened in 1966, and this makes it one of the oldest hands in the business. For nearly four decades now, Sheela's has been a giant in the business of arts and crafts. Shanker Daswani, the store's present owner, is now taking Sheela's to a whole other level.

Located in the Lal Bahadur Stadium complex, Sheela's appearance emulates a mini museum. Its forte is quality for the best price. The large variety of handicrafts, coupled with reasonable prices, has made this store one of its kind.

Special care is given for the needs of tourists, NRIs, art lovers and art curators visiting Hyderabad, making the handicrafts a hit with discerning visitors from all over the world for over 30 years now. Bollywood, Tollywood and even Hollywood stars are loyal customers of the store.

Sheela's has a vast variety of sandalwood figurines from Karnataka, stone artifacts from Rajasthan and decorative utility articles made of brass from Uttar Pradesh. Rosewood 'mandapams', wall panels, tables, leather utility items like purses, wallets and good collection of batiks and kalamkari works are a specialty here.

It also specialises in brass figurines (icons) varying in size (from 3 inches to 50 inches). Custom-made mementos are also available here.

Apart from this, Sheela's has ethnic Indian jewelry, South Indian oil lamps and 'diyas' varying in size (from 2 inches to 50 inches), and flower vases (ranging in size from 3 inches to 40 inches). All these are decorative items that you'll find in the mansions of cine stars and other influential persons.

There are many items that can considered prized possessions at Sheela's - silver jewelry, sandalwood figurines, brass icons, bronze figurines, rosewood inlay works, sandalwood articles, stoneware, bidriware, ebony wood articles, marble ware, brass ware shawls, semi precious stones, kalamkari works, and antique brass statues of Indian and Nepal gods.

The store also has a wide collection of corporate gifts, metal artifacts, wrought-iron works, wooden furniture, pearls, painting, jewelry, stone work, woodcrafts, leather articles and home accessories.

The store also has a spotless customer service sheet. Fair prices and perfect quality have made sure that Sheela's customers of thirty years are still coming back.

Sheela's is among the best places for arts and crafts in the city. No two ways about it.

Please contact Shanker Daswani, Managing Director.