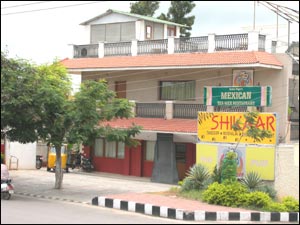 Initially a separate restaurant, Senor Pepe's was a charming Mexican joint with sombreros and parkas on the wall, straw blinds that let in just enough warm sunlight, and a calm unhurried ambience that gave you time to chomp peacefully through your burrito. But apparently not as many diners were seduced by this as one would have supposed, and the authorites decided to convert the area into a pub, while Senor Pepe, parka and all, was crammed together with dusty hunting trophies in the sombre gloom of the restaurant downstairs, Shikaar.

But this seems to work for a lot of folks, and Shikaar is quite a crowded place during peak-hours. And the Indian (mostly, Punjabi) food is very popular. But good Indian restaurants are a dime a dozen - the Mexican here is what is worth travelling for.

Although they're often sold together, Mexican cuisine generally does better than Italian in Hyderabad. Perhaps because while pasta might seem bland to certain palates, most everyone loves the flavors of Mexican food - fresh and spicy salsas, crunchy tortillas and creamy cheese. Also, unless you go the whole enchilada, it makes for a light meal that doesn't leave you useless for two hours after lunch.

Start off your meal with the Sopa de Tortilla, a thyme-flavoured tomato soup with corn chips and whole corn. The Sopa de Delia is more filling, with chunks of chicken, kidney beans and whole corn. Sopa de Marisco is similar, but with prawns. Nachos, corn chips topped with veggies or chicken, garnished with cheese and served with salsa and sour cream, make for a good appetizer. Or try the Quesadillas, which is a pizza-base-type wrap stuffed with veggies or chicken, or the Flautas, which are a kind of spring roll.

The main course has the Pollo de Baton Rough, a dish of chicken cooked in herb sauce and served with rice. The Fajitas are very popular, with fish, chicken and veg fillings, and they're served as sizzlers with rice and fries on the side. The Enchiladas and Burritos are also quite good meals in themselves, the latter loved for its kidney-beans-in-sauce stuffing and grilled cheese topping.

If you are going Indian, you must try the keabas, which are done very well here. The Irani Sheekh, Aloo Chutneywala and Lasuni (garlic and mint) kebabs are top vegetarian choices, while others enjoy the Murgh Akbari and Kaliya (lamb) kebabs. The main course is usually rotis or naans - of which the garlic cheese naan is very good - and these are paired with Makkai Harabara, Murgh Kalimirch or Vegetables Hyderabadi, with plenty of onions and garlic. The Dum Biryani is also a good choice.

Among the Chinese selections, preferred snacks include Spicy Grilled Fish, Babycorn Pepper Salad and Shanghai Prawns. For a more substantial meal, try the Veg. Rice Bowl with Lungkai Vegetables, Mixed Veg Cashewnut and Chicken In Plum Sauce.

The desserts menu isn't very extensive, but the Chocolate Rum Mouse and Strawberry Cheesecake are quite yum, as is the Fudge Brownie With Ice-cream.

Shikaar is a nice place to visit when not too crowded, because during peak-hours it's difficult to catch the waiters' attention - they're so busy. Perhaps mixing up the restaurants wasn't a good idea; but if cold-nosed business sense has robbed you of an idllyic setting, at least it hasn't touched the flavors that brought it all alive.