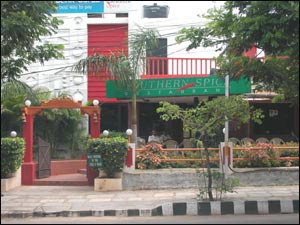 SS is a big hit with Andhraites for two reasons: first, it confines its exploration of South Indian cuisine almost exclusively to the Andhra belt and its palate-scorchers. This, the natives would agree, is the only sensible way to go about it. And second, it does such a great job of bringing authentic regional flavours to your table that a full-course meal feels like a little whirlwind tour of the state we call home.

Don't let the small mob sitting outside dampen your spirit, the wait for a table at SS is never too long because nobody inside has any trouble polishing off whatever is on their plate. Done up to invoke a rustic mood, the restaurant's entrance is complete with mud pillars and little rangoli patterns on the walls. Inside however, you won't have to waste too much time appreciating the dcor. Service is fairly quick, once you've made up your mind. But that is the tough part.

So we've decided, in all our magnanimity, to spare you the heartache and take you through the sure-fire hits on the menu. The raagi sangati and jonne rotte are firm favourites for the main course. As are the chicken chettinad, the gongura mamsam and the absolutely delish chaapa vepudu (fish fry). All of these dishes go great with the classic perugannam (wonderfully spiced curd rice) or steaming ghee-rice with karam podi.

The only area that SS disappoints is with its desserts. They haven't, unfortunately, gotten much more creative than trifle pudding and caramel custard. The restaurant also serves North- Indian and Chinese food, but one suspects this is only for the occasional rebellious foodie. Believe us, ordering noodles and manchuria at SS is not just misguided, it's damn near blasphemous.