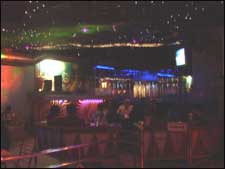 The Mecca of hip-hop lovers on Thursdays, Sparks plays rather good music the rest of the week as well. And it's one of the few pubs in town with that feature. Retro, rock, clubhouse and trance are staples here, and DJ Yogi spins enough to keep the Pink Floyd fan happy too.

If music is the top reason for this pub's popularity, then the somewhat crammed dance floor comes a close second. It's a testament to human will, how the crowds manage to dance where there is no elbowroom. Going by the frequent nudges and pokes, it's also a testament to the spirit's endurance.

A word about hip-hop nights - get there early or sit on an armrest all evening. Thursdays sees the maximum number of the city's international students, all dressed in their most colorful feathers. Occasionally a few impromptu rap artists also surface. Each Thursday night ends with a sing-along to Buffalo Soldier, which has attained anthem status with this crowd.

Sparks is also one of the more affordable pubs (which explains its popularity with the student community), and has happy hours everyday between 11am and 6pm, where with each peg you order you get one free, and for every two mugs of beer you get one free.

Even if you don't enjoy the dancing or the hip-hop, just visit Sparks to sit a while. Sink into one of the sofas, nurse your drink and watch the sparkles on the ceiling or the play of the psychedelic lights on the wall. It's worth the occasional thwack by a random gesticulating hand.