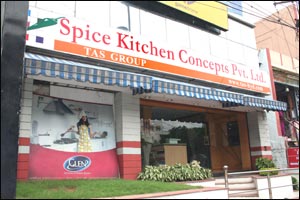 A warm store with lovely interiors - plate glass store front, Italian tiles, parquet - and a range of stunning kitchen stuff, Spice Kitchen has all those things you need to cook, bake, store and serve in style. You'll find cooking ranges, gas burners, chimneys, pull-out racks, steel accessories and entire modular kitchens.

Spice Kitchen stocks brands like Faber and Glen in a colorful range of styles and finishes. A completely Hyderabadi concept, Spice Kitchen claims to be the first of its kind in India. They specialize in wholly customised solutions for the kitchen.

The prices start at Rs. 6,990 for a gas-burner and at Rs. 40,000 for a kitchen-redesign. The products here are available in MS, stainless steel and what looks like gunmetal. The finish is excellent, so this might make for a sound long-term investment. Look at it this way: even if dinner was forgettable, you'll be remembered for your gorgeous kitchen.