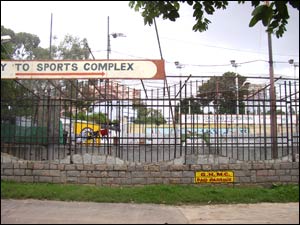 A sound mind in a healthy body. Sounds like an infomercial for a health camp, doesn't it? Well, it is and yet it isn't. It isn't because this saying is a credo at the Sports Coaching Foundation (SCF), and it is because a healthy mind is viewed as the primary means of acquiring a healthy body. But phys-ed fundas apart, what the SCF actually is can only be gleaned once you take a closer look into how and why it was started.

K Sai Baba, the founder member and chief coach, is a well-known athlete who has represented Andhra Pradesh in many tournaments. But instead of going the telecommentator way after retirement from active sports, he decided to keep his skills and training in the field - as a mentor, coach and role model for children to look up to.

Initially he found the going pretty darn tough, even with the backing of the Municipal Corporation of Hyderabad (MCH). While the ground where the SCF is built belongs to the government outright, it was notorious for being an adda for drug junkies and prostitutes. Sai Baba had to endure many obstacles from these people before the place could be cleared off and the foundation of the academy laid.

But that wasn't all. He had the place allright, but no takers. With his immediate vicinity being dotted with slums, the slum-dwellers were initially quite antagonistic and suspicious of his "so-called altruism" towards their children and their welfare. He and his wife went door to door, persuaded the parents, and after 6 long years of persevering, the SCF finally began to teem with kids the way it was meant to be.

While Sai Baba's main emphasis is understandably on making the kids learn and play the game, he has not forgotten to take into account that there are many for whom these things are still a luxury. So the SCF has a 10-point agenda:

- To spot young talent in various sports, especially among the underprivileged
- To find, coach and shape youngsters into top class players
- To develop and maintain playgrounds, pitches and courts in as many places as possible
- To award scholarships to deserving sportsmen and sponsor them for training stints in India or abroad
- To establish comprehensive and extensive libraries, exclusively for sports lovers
- Help develop the physiques of all players via yoga and intensive physical activities
- Co-ordinate between the various bodies and associations for promotion of sports & games
- Help other similar organizations in promoting a positive attitude towards sports
- Conduct tournaments and events to tap the latent talent in children
- Promote sports and physical fitness in the community along with human values

The SCF doesn't believe in taking a cautious approach. It is out to prove that anyone, given the right kind of training and incentive, can prove himself/herself on the field and in any arena in life. And to prove its words, it has delved into the interiors of AP and has reached out to the tribal community therein. Usually on the fringes of society, these people have bravely ventured outside their sheltered homes and towards a metropolis, and have learnt to acclimatize with a society and people quite different from their own.

What you find really remarkable about SCF is that it has helped considerably in breaking down barriers amongst the classes. Kids from the posh sections of the city playing side-by-side with kids from the slums end up teaching their parents that there isn't anything called the wrong side of the tracks where sports is concerned. There you're just as good or bad as the next guy. Your address is totally notwithstanding.

But SCF is not just about kids alone; its infrastructure has frequently caught the eye of professional cricketers as well. Teams like West Indies and Zimbabwe opted to practice here during the World Cup, and Mitali Raj never misses a chance to come and hit a few balls. It combines professionalism alongside its compassionate persona. It boasts of having the first bowling machine and astro turf in the country. In many ways, it has been a trendsetter for the community the country over.

While the image that maybe slowing taking shape is that of social responsibility and giving something back to the community, it is not entirely on those lines that SCF was shaped up. Children need outlets for their youthfulness. They need to be taught ways and means of developing team spirit and how to get that much-needed grit and drive to succeed and be a winner. And above all, they need to have F-U-N. The SCF provides all these all under one roof ...rather, one astro turf.

So even with ruddy-faced coaches grunting from the sidelines, and over-anxious parents nagging about being an all-rounder abounding from all sides, each child leaves at the end of the day with a smile of satisfaction on his/her face and a spring in the step that speaks volumes of the kind of enjoyment, and utter surrender to the feeling of exhilaration, that playing the game brings.

Whether it's cricket, or, now, tennis, these children learn what their potential is, learn how to tap it, and, most importantly, learn about life. Now THAT'S a game worth playing!
EVENTS AT SPORTS COACHING FOUNDATION
There are no events at Sports Coaching Foundation scheduled currently.