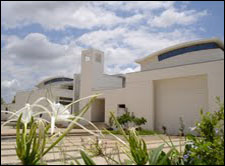 Our elders say our school is our second home. Sreenidhi makes it the first home, so much so that the children here can call it "School Sweet School". Or maybe it's just an S fetish.

Though right now (August 2005) the school offers only up to the Vth Standard, it is growing into a large residential campus at the Himayatsagar lake which will provide anything a child can want or dream of. Extensive sports facilities, an amphitheater, a Kala Bhavan, an assembly hall, a bank and excellent housing facilities will be its forte. With large classrooms, a library (5,000 sq ft), laboratories, a language center (having Sanskrit, Urdu, Telugu, Hindi, French and Spanish) and an IT center where each student has his/her own PC, the management hopes to fulfill all the needs of the children.

Currently, the school has a spacious plot in Jubilee Hills where the students are in the hands of proficient teachers. The sports facilities comprise football, tennis, basketball, badminton, cricket, hockey, cycling, volleyball, athletics and swimming. Indoor games include a gymnasium, squash, table tennis, chess, yoga and aerobics.

A song (in Carnatic, Hindustani or Western) has no beauty if it lacks the right instruments for music. The students here can learn how to play the piano, the guitar, the tabla, the violin, the flute, the sitar, the sarod, the veena, the santoor and the mridangam. As for the arts, there are clay-modeling, sculpting, drawing and painting.

The school has a qualified, driven and ambitious management. The spirit of Sreenidhi International School is Dr. M V Prasad, the vision is that of K T Mahi, and the experienced Samik Ghosh is the Principal. Backed as it is by such a highly competent team, it's no wonder that its students are all praise for their school.