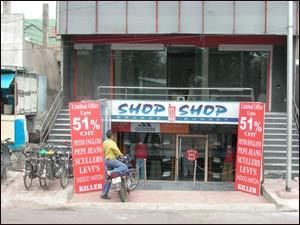 Stop And Shop is big for a little store. It's full of good ideas if you are out looking to buy gifts, especially for a guy-pal who is not easy to shop for.

Stop And Shop stocks a wide array of things imported, from clothes to key chains, and all branded. Which means there's not much hope for a bargain. The store has almost every gizmo you could need, from watches to calculators, beepers and cell phones. Featuring Nokia, Samsung, Panasonic, Casio, Orpat and other popular brands of clothes and sunglasses as well. Also find a limited collection of leatherware, belts, wallets and even shoes here.

You can actually buy the things that you are looking for here. That makes a welcome change from having to compare brands till you find something half-decent.