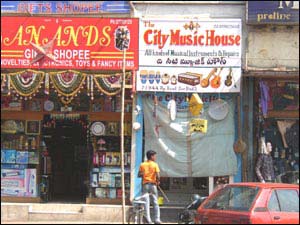 The City Music House is housed in a 10 ft x 6 ft cubicle with a slightly larger workshop in the adjacent lane, but it offers a lot of variety when it comes to Indian classical instruments. The store dates back to the pre-independence era, and has now passed on to the second generation. It still does business from a rented space, even though the rent has increased from a paltry Rs. 18 to Rs. 4,500.

To look for a grand piano or a drum kit here will be a vain exercise, but any Indian classical instrument is a safe bet. They also offer repair and service for the same and promise an excellent job, courtesy their skilled artisans.

Sitars start at Rs. 1,800 and go up to Rs. 4,000. Harmoniums are available in single and double reeds, with the former costing Rs. 1,200 and the latter ranging between Rs. 2,100 and Rs. 8,500. Veenas are available in the range of Rs. 3,500 to Rs. 7,500. Violins start at Rs. 1,750 and mandolins at Rs. 750 (with an electric one costing Rs. 4,000). Tablas are priced between Rs. 750 and Rs. 5,000. A beginners' acoustic guitar can be bought at Rs. 1,250, and an electric one costs Rs. 4,000.

All the instruments are Indian-made. Bargaining might help, only if you do not mind the jostling of the pedestrians.

All in all, The City Music House can offer a good bargain on Indian classical instruments, coupled with good advice.
EVENTS AT THE CITY MUSIC HOUSE
There are no events at The City Music House scheduled currently.