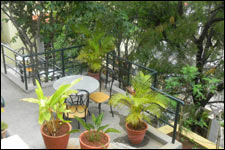 The Scene

It is very easy to mistake Truffles Café for just another stately and aesthetic mansion among a whole row of them in its upscale location. First-timers, or for that matter, second-timers, generally make two rounds of Road No. 10, Jubilee Hills, before they finally spot an unobtrusive oval sign that proclaims itself as belonging to Truffles Café.

As you park your vehicle and step in through the gates, the sight of enchanting terraces and cozy nooks, artistically interspersed with trees and park benches and vintage-y paintings, greets you. They do have an indoor seating area, that is as lazily European in its feel as the rest of the place. But nothing beats the magic of sitting outside in Truffles on a breezy evening, as you let the magic of classic rock and pop music and the atmospheric lighting wash over you.

As you would expect, a smiling host greets you and shows you to your table. If the weather is agreeable, and you aren't allergic to the occasional cloud of nicotine wafting your way, you should most certainly sit outside.

Do make sure you ask the waiter for a mosquito coil, though, if you don't want to have to swat and scratch your way through the delicious meal that awaits you.

For relatively brisk and thoughtful service, hope that the place is busy as a bee. Strangely enough, when business is slow, it's awfully hard to get hold of the very same waiters who would otherwise be shwooshing around the place, trays full to the brim precariously perched atop capable hands.

So, if you go there for their famous breakfasts, prepare yourself for a long wait and repeating your order at least twice (about 15 minutes after you've made it).

The Food

Featuring all the stalwarts from the Continent, including all your BBQs and Stroganoffs and Au Gratins et al, the menu also throws up surprises like that Goan delight pork vindaloo, and a flavorful, piping hot khichri accompanied by a yummy mutton curry.

The food is, as a rule, good, and, if it isn't, the waiters will not look grumpily at you if you send it back.

After all, ordering a la carte for two people will set you back by a good Rs. 1,000 to Rs. 1,500, counting Rs. 100 – 150 for drinking water. No, they don't serve tap water for free. And the bottles of Kinley they provide are three times the retail price.

However, one bite into any of the delicacies spread out on the extensive menu, and all their sins are forgiven.

One night, last Thanksgiving to be specific, this writer went there was particularly busy. When asked for the holiday menu, the waiter apologetically told us that they were out of those items. Ten minutes later, he comes back and tells us, "If you don't mind waiting for half an hour, we'll have it ready for you."

The vittles, when they finally made their way to our table, were most certainly worth the wait. The chicken was perfectly cooked, and the cranberry sauce offset it perfectly. The potatoes were lush and creamy, and the vegetables were grilled just right, without turning into mush the way they do at a lot of places.

Then came the pumpkin pie, which sent us into gastronomic alts from which we are yet to get down.

The best part? This filling meal for two only cost around Rs. 600.

The Verdict

Truffles Cafe is one of the best places in town to take someone out on a date. Alternatively, you can also get a book and curl up all by your self. And, do watch out for their holiday menus.