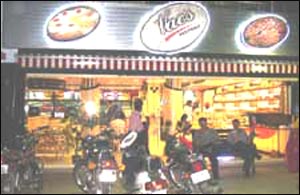 What started off as a favourite eat-out among the Marredpally/Sainikpuri crowd, has now become, as the advert puts it, world-famous in Hyderabad. It's out of the way for most of us, but news of the freshest, most scrumptious pastries in town has made its way around. If you're tempted to dismiss these reports as over-hyped rumours, take our word for it - don't. Anything you've had at your best bakery ever won't compare to the stuff you'll find here. So make that detour next time you're in the area, and you'll be happily reassured.

Vac's is most famous for its Black Forest Pastry, but if you want something really different, try the Mixed Fruit Gateau or a slice of the Fresh Strawberry or Kiwi. Topped with the freshest of seasonal fruits, smothered in whipped cream and layered with fruit preserve, these are better than any chocolate pastry. If you do have a craving in that direction however, try the super-rich Chocolate Truffle. And all the pastries are priced between Rs. 15 and Rs. 25 or thereabouts, so you won't feel the pinch either.

Not everyone visits for the pastries, though, and Vac's also serves very good pizzas at around Rs. 40 or so, and enough for two people. The Cheese Supreme and Mexican are most in demand. The Bun Rolls, Dizzy Dogs and Puffs are also quite good. You will also find good breads here - the Garlic Bread and Ragi Loaf are quite good.

This is a nice little place to sit at, bright and loud. There's also a bench outside, if you want a smoke. Since Vac's doesn't deliver, there is a constant stream of visitors driving by to pick up their goodies. The only hitch with this place is that it isn't easily accessible. If only they would open a branch closer to the city's central shopping areas. The competition would have to run for cover.