Vishnu 70mm (Vanasthalipuram)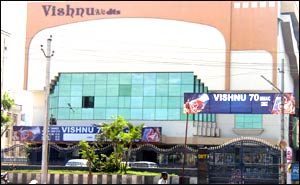 After taking the visa for entering this part of the world, you will find this baby on the highway to Vijayawada. You will also find yourself asking whether this theater is closer to Vijayawada than to Hyderabad. We confirmed with the authorities and they insist that it is not. That is, it is not closer to Vijayawada, it is in it.

Being this far from the city has its advantages. Vishnu is considered as the best theater in this part of the town. It is the only towering structure on the highway, standing lonely and proud. With air conditioning, Dolby DTS and a 70mm screen, why shouldn't Vishnu be proud?

Maybe because its seats are cramped. Maybe because the crowds here greet each other by spitting on others. Maybe because the black-ticketeers thrive in these conditions. Maybe because you feel like you will die if you don't go to the John, and when you do, you actually die. Maybe.

All those maybes are the reasons why Vishnu should not feel proud. But it still does. And the people always make sure that it does well. As they say, highways have their own standards.
VISHNU 70MM (VANASTHALIPURAM) SNAPSHOT
Listed In

Address

On Vijayawada Highway, Near LB Nagar Crossroads, Vanasthalipuram, Hyderabad - 500661

3 users say this is wrong.

Telephone

6579-9373

8 users say this is wrong.

Email

Seating Capacity

Air Conditioned

DolbyDTS

Tele-Booking

Year Started

Closed On

Prices

Payment Option(s)

Closest Bus Stop

Closest MMTS Station

Add New Field:
MOVIES AT VISHNU 70MM (VANASTHALIPURAM)
There are no movies at Vishnu 70mm (Vanasthalipuram) scheduled currently.
LEAVE A COMMENT
fullhyd.com has 700,000+ monthly visits. Tell Hyderabad what you feel about Vishnu 70mm (Vanasthalipuram)!