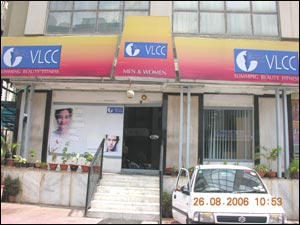 There is an advertising board a few meters from VLCC, with a testimonial featuring a woman in those typical 'before-after' pictures, claiming to have lost 93kgs here. Even as that seems incredible, you gulp it down as truth, and make your way into the clean, air-conditioned corridor, to be greeted by their receptionists who are, obviously, slim.

All across India, VLCC, the biggest name in weight-loss, engages the services of nearly 3,000 specialists - like doctors, dieticians and nutritionists - and is one of the best-established and well-researched slimming centers. They have special programs for controlling obesity, with a gym that has the most modern equipment, divided into four sections: cardio-vascular, strength, floor excercises, and the spa. And this isn't all. VLCC also provides beauty services such as firming, toning and detoxifying therapies.

The treatment, of course, depends on the individual requirement of each client, and counselling continues even after the completion of a client's in-house program. Vandana Luthra, the chairperson of VLCC, has her own line of beauty products, and offers beauty treatment such as bio-marine treatment, essential oil therapy, micribiolifting treatment, cellulite control therapy and biowhite treatment, for tackling areas such as sagging skin, acne and, of course, the lifeline of the Indian Beauty Industry, fairness.

The clientele of VLCC varies across age and profession. You bump into homemakers, businessmen, students and professionals. The USP of this institute is that it infuses confidence in you. You stop and wonder for a moment about the thought behind this: are we coming to a point where we relate beauty directly with confidence? Well, never mind that. The fact is that for the scientifically researched and reliable road to slimming, VLCC's probably the place to go.
EVENTS AT VLCC SLIMMING CENTER
There are no events at VLCC Slimming Center scheduled currently.