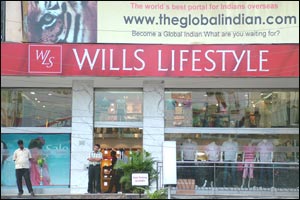 P. S. This is not an electronic store. The four television sets mounted up on one wall, all playing the same thing, are just there to show off how opulent a store this is.

That's Wills Lifestyle for you in a nutshell. Or a misplaced postscript. Serious, rich and pompous. And of course, a clothing store.

This one at Panjagutta is one of the 48 stores in India of the ITC Wills Lifestyle chain. The clothing range here consists of three different lines for both men and women – Wills Club Life, Wills Sport and Wills Classic.

Wills Club Life consists of party wear for both men and women. This includes shirts, T-shirts, tops and trousers in abstract and floral prints.

Wills Sport is the leisure wear line which, at present, draws its inspiration from the Grecian culture and incorporates them in its hues and designs. The clothes here take the form of shirts, T-shirts, tops, trousers, capris and drawstrings in checks, stripes, polka dots, denimology and dobby weaves.

Wills Classic is the regular formal wear. The only difference being that the prices are anything but regular. This business wear range is dominated by stripes and checks.

The fabrics used here are cotton, polyester, viscose, rayon, nylon, spandex, French linen, Irish linen and knits. All the clothes are yarn-dyed, so you can rest assured that the color won't run. Unfortunately, the same cannot be said about you once you take a look at the prices. They range from Rs. 895 to a mind-numbing Rs. 2,395.

Wills Lifestyle also houses Vera Pelle wallets and belts in genuine leather, priced between Rs. 595 and Rs. 1,295. Furla handbags and purses rest atop a rack in one corner, collecting dust. These babies will cost you anything between Rs. 5,895 and Rs. 12,000. Furla is an Italian designer label that is trying as hard as Valentino to find suckers through Wills Lifestyle. Which brings us to the Valentino sunglasses. These are unisexual shades that are tagged at a starting price of Rs. 2,395 and go up to Rs. 11,095.

Wills Lifestyle also sells gift vouchers, titled Occasions, for values of Rs. 250, Rs. 500, Rs. 1,000 and Rs. 5,000.

Two outstanding things about the store – a unique exchange policy, where they will exchange any of their products without asking you a single question, even if the stuff is torn, stained or damaged. The second thing is a kiosk machine that is perched bang in the middle of the store, which will take you through the entire clothing range at the touch of a finger. And make you feel totally triumphant while doing it.

Wills Lifestyle is your best bet for clothing that costs you the earth, and still manages to look as plebeian as possible.
EVENTS AT WILLS LIFESTYLE
There are no events at Wills Lifestyle scheduled currently.