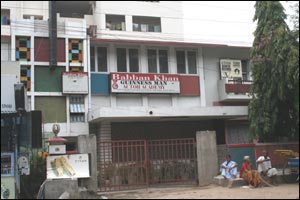 One stairway, one room, and about a thousand pictures and articles about a man in a black sherwani, a tiffin carrier and a black umbrella who's posing in front of the Pyramids, the Eiffel Tower, the Leaning Tower Of Pisa and the Sydney Opera House, to name a few.

His is a story that could live eternally for its bravery, passion and wonderful achievements that he considers just bystanders in an intense love affair spanning four decades.

No, there's nobody in Hyderabad who doesn't know Babban Khan and his Adrak Ke Panje.

Growing up in penury in the streets of Aghapura, Babban Khan overcame the personal tragedy of losing his siblings to malnutrition, and wrote Adrak Ke Panje (the claws of ginger), a solo act, first performed at Ravindra Bharati in 1965.

It met with failure. Which makes its remarkable success that much more copy-worthy.

He decided to follow his dreams nevertheless, and persuaded his sponsors to give it just a few more trials. The "fews" became 10,175. The play ran in over 60 countries in 27 languages and over 42 years, and was - is - recognised by the Guinness Book as the longest running single man show.

An extremely private man content with his life, Babban Khan now resides in the city he loves, at Masab Tank, giving to the people the gift he says God gave him. He takes on two or three students at a time, teaching them one-on-one for an hour everyday. Courses last 2 to 3 months, and the student receives a diploma that states that he is a Babban Khan trainee.

The best teachers are those that love their subject, and appeal not only to the mind but also to the psyche. Learning from Babban Khan will broaden perspectives not only on stage but also in all the roles that life demands.
EVENTS AT BABBAN KHAN ACTING SCHOOL
There are no events at Babban Khan Acting School scheduled currently.
LEAVE A COMMENT
fullhyd.com has 700,000+ monthly visits. Tell Hyderabad what you feel about Babban Khan Acting School!