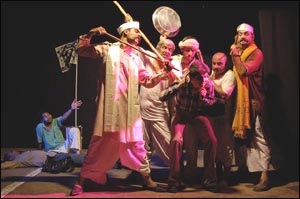 Sutradhar is credited with its serious theater enthusiast and guiding voice, Vinay Verma, whose impressive credentials include parts in several English, Telugu and Hindi plays, television and movies, and in several ads. He has done voice-overs for major stars like Tinnu Anand and even Chiranjeevi. And his able counterpart, Prof. Bhaskar Shewalker, is a former Head of the Department, Theater Arts, S N School of Performing Arts, University Of Hyderabad, with 40 years of theater experience. And he's directed 90 plays, too.

Sutradhar is primarily a casting agency, and seeks to provide placement to people in all fields connected to theater, television and movies. It also directs plays, and offers voice and acting workshops. The duo view themselves as guides, and hope to bring out the talents within their proteges, by taking in small groups and specialising in personal attention and problem-specific guidance.

The students here are a satisfied lot, and have only good things to say about Sutradhar. They feel their confidence as actors has grown immensely and has helped them perform better in subsequent placements.

Sutradhar is a training experience that seems to be well worth the money and time spent, with its inviting mixture of experience, passion and fun.
LEAVE A COMMENT
fullhyd.com has 700,000+ monthly visits. Tell Hyderabad what you feel about Sutradhar School Of Acting (Acting School)!