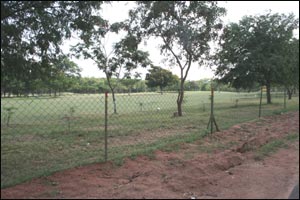 Watch out for flying balls, say the signs as you approach the Bison training area that houses the oldest golf club in Hyderabad, and I was glad to be wearing my helmet. The signs continued on for nearly a kilometer, and though I wasn't hit by the aforementioned round flying objects, my mind was nevertheless boggled by the size of the course. 8km of walking, I was told by one of the members here.

The Bison Golf Course club is open to all defence officers for membership, and is open to civilians to play on a per play/practice basis. It is an 18-hole course, with magnificent fairways and lush greens and lots of shady trees which you appreciate more and more as the 8km of walking starts to take its toll.

The golfers here feel that this is one of the best maintained courses that they have played on, and are appreciative of services like the club house, cafeteria, pro shop, lockers, practice greens, equipment on rent, tutors and caddies.

As can be expected with the army, there are rules regarding the dress code. A T-shirt/shirt must have a collar (starching to army stiffness optional), and sports shoes must be donned over trousers (camouflage greens optional).

So if you are one of those people that have been watching golf on the sly, there is a propah golf course right here at an affordable price. Go early to get the best equipment.
LEAVE A COMMENT
fullhyd.com has 700,000+ monthly visits. Tell Hyderabad what you feel about Bison Golf Course (Army Golf Course)!