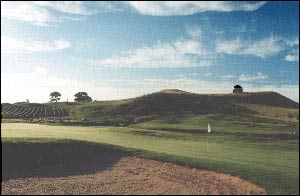 Okay, now keep those shoulders steady, eye on the ball and swing through. Remember to aim at 12 o' clock, said the trainer as I wiggled my backside professionally. THUNK, I ended up at 2 o' clock, and my first attempt at golf was lauded by everyone except the one standing at 2 o' clock and 1 minute.

Golf is a game that might be considered boring by many, but the true sportsman recognises that the ultimate competition is with the self, and this is the game that brings it out most. The man, his mind and acres of greenery to calm the frazzled soul.

The Railway Golf Club is situated, unlike other courses, in the middle of the city, and is a 9-hole course where you would tee off at Genesis, go on to play holes called Retreat, Hop and Waterloo to name a few, and finish off with Homecoming. The course par is 36-i. e., to maintain an even score, the 9 holes should be completed in 36 shots.

The course is extremely well-maintained, with fairways and greens that are a sight for sore eyes. It has about 150 members, of whom about 20 are regulars. The regulars regard this course as the most challenging one in Hyderabad, with well-placed bunkers and thickets of greenery to impede progress. Caddies are available at the club as are tutors. One guest is allowed per member, twice a week. The course aims to hold club level tournaments with golfers coming from various golfing clubs in the state.

There won't be any Jyothi Randhawa frequenting this course, but the Hyderabadi golf afficionado will feel right at home, unless he finds himself stuck in the bunker at Waterloo.
LEAVE A COMMENT
fullhyd.com has 700,000+ monthly visits. Tell Hyderabad what you feel about IRISET Golf Club (Railway Golf Club)!