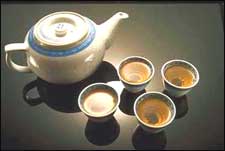 This had to happen someday. When the first Coffee Day hit the city, it started the Brown Bean revolution that indulged everything with an opening on the ventral anterior end. As gallons were being poured down that opening, coffee's closest rival waited patiently to regain its rightful popularity.



As the saying goes, the time has come - the time to categorise the favorite drink of the Hyderabadis into morbid categories, and even more morbid prices. The first tea bar of the town has lots of, well, tea.



For the health-conscious perfectionists, there's Herbal Tea, Ayurvedic Tea and the famous Chinese Tea. For the fancy bums, there's Champagne Tea, Rasberry, Orange Pico, Salon etc. And for the classic tea lovers, there's the Assam, Darjeeling, Lemon and the English tea. Add to this collection the crowd favorites like the iced tea and sweet tea, and we have, well, lots of tea.



All these are just broad categories. There are gazillion varieties inside. The broad price range is from Rs. 35 to Rs. 125. But the moment you realise that the Hyderabadi chai costs you Rs. 35, you try to control your anger for legal purposes.



To accompany the chai, they got biskoot too. Small eats like chocolate-chip cookies, mini clairs etc.



Be at the place before bubblegum chewing kids mob it. Eventually they will. Like everything else in town.