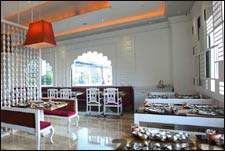 De Thali's motto is this - everyone in sight must be stuffed. To beyond capacity.

De Thali is Ohri's latest restaurant, and only serves vegetarian thalis of Gujarati/Rajasthani food. The brightly-lit place is usually teeming with both guests and waiters, and has an animated buzz all around.

The thali has a galaxy of items - beginning with starters, moving on to rotis and half a dozen accompaniments, then to rice dishes, to the desserts. West-Indian favourites like dal-baati, kachoris, dhoklas, Gujarati dal and khichdi star in the spread. On the side, you get to wash it down with buttermilk and some kind of jaljeera.

The problem is this - they don't serve it all at once. So you have no clue of how to strategize your eating, and whether you must save space for the next item or whether you must just cram.

The prices tend to be surprisingly low here, so trust us and pig out. Only, make sure you walk in hungry enough to eat your hand.