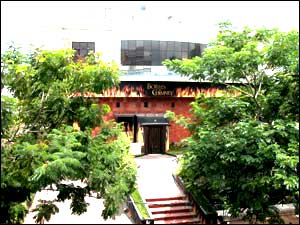 When this nightclub first started, there were some speculations on whether a pub really needed to be so large. Were there really that many people looking to hit the night scene in Hyderabad? Turns out, there were. All the two-storeyed space that this club offered was filled up happily by a city that didn't want to jostle with the masses on T2's dance floor or drive through god-forsaken land to reach TI. B&C found its niche in surprisingly short time.

This is where you go when you want good food with your drink, or when you want to entertain a party, or if you've been bitten by the hip-hop bug that's going around. There's also plenty of room to dance, and a movie brunch on Sunday, plus an Executive Lunch for Rs. 99. Besides all this, B&C has recently acquired the label of being quite a celeb hangout. Actors in town for their film promos invariably find their way here.

High up on the club's agenda is keeping interest peaked, so every day of the week has something going on in terms of music and events. DJ Shweth plays rock on Mondays and Tuesdays; bhangra for Patiala Night on Wednesday; retro on Thursdays and club; and house or trance on Fridays, which is also the official theme night at B&C. Themes range from James Bond to Hawaiian to Bollywood Masala. DJ Kanna makes every other Thursday a must-visit for hip-hop and R&B fans.

Bartenders here also have a couple of popular tricks up their sleeve, apart from the mint-and-vodka cocktail Caipiriojka. Flame-juggling and card tricks are a specialty here. So if you like your drink with more than a splash of the new and interesting, then head this way.
LEAVE A COMMENT
fullhyd.com has 700,000+ monthly visits. Tell Hyderabad what you feel about Heart Cup Coffee - Begumpet!