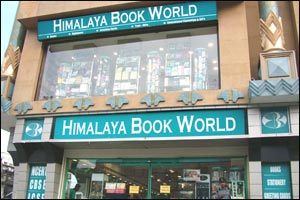 We're beginning to feel slightly better about the book-loving crowd in Hyderabad, becoming increasingly sure they exist. Himalaya is one of a long line of bookstores that encourages you to read, write and make the owners rich, all at once.

The store is perhaps one of the best lit, neatest, and most feel-good bookstores in the city. The gift articles are interesting, and include some unique items like a portable chess-board, crystal, very sleek clocks, and grab-me-right-now pen pouches. Board-games and notebooks are also aplenty, with the latter available in various sizes, colors, pages and every other insane specification. All of the stationery is on the ground floor, so only the book browsers crowd the first floor.

Climb one flight of steep, narrow stairs, followed most likely by a suspicious member of the staff, and you reach a cute little dome stacked with bestsellers and facing a comfy sofa. Himalaya doesn't disappoint with its selection of books, although it needs to stack up on titles and authors off the beaten track. The range here, however, covers a cross-section of interests; health, psychology, fiction, management, comics, cookery and even a rack dedicated to business letter writing!

From one end to the other, you'll find Asterix comics, Virginia Alixine's Dibs In Search Of Self, Norman Vincent Peale's The Power Of Positive Thinking and The 30-Minute Vegetarian Cookbook Series by Mridula Baljekar.

So what if you don't like to read books? Himalaya gives you more reasons than that to go to a bookstore. Definitely worth stopping at.
EVENTS AT HIMALAYA BOOK WORLD
There are no events at Himalaya Book World scheduled currently.