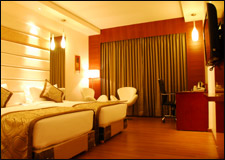 Cradled between the city's signature upmarket area Banjara Hills and business hub Hi-tech City, Daspalla combines ritz and contemporary facilities to create a world of aristocratic sophistication, an elegance that grows on you as your feet sink into the plush flooring and your senses revel in the exquisite decor of the place.

An ornate chandelier reflecting off the flooding sunlight from its many glass facets grabs your attention, as you are ushered into the roomy lobby by a gregarious doorman. The play of contrasts with warm orange set against virgin white walls, and red designer chairs against white sofas, adds to the cheery, sunlit warmth of the place.

The hotel offers 4 categories of rooms - Superior, Premier, Club Select and Suites. As the tariffs of the different categories vary, so do the facilities offered for each kind, including the upholstery, furnishings and even the brand of mineral water.

All the rooms are tastefully done in beiges, browns, whites and muted golds, and have facilities that include LCD TV, electronic safes, complimentary fruit-baskets, mini bars on request (except for suites, for which minibars are complimentary), tea/coffee makers, and complimentatry broadband and WiFi connectivity.

The Superior rooms come with all the above-mentioned amenities, and are charged Rs. 4,500 for a single room, and Rs. 5,250 for double rooms (at the time of writing in November, 2010). The bathrooms are moderately sized, but the Biotique cleansers and shampoos, hair dryers and towels wrapped in beautiful floral motifs make up for the space constraints.

The Premier rooms are almost identical to the Superior rooms, except for the intricately designed headboards. These rooms are priced Rs. 5,250 for a single room, and Rs. 6,000 for double rooms.

The Club Select rooms come with added facilities that include weighing machines, complimentary laundry, complimentary tea, coffee and wine in the club lounge, and bigger bathrooms fitted with rain showers. They are priced Rs. 6,000 for a single room, and Rs. 6,750 for double rooms.

The piece de resistance, of course, is the suite (at Rs. 9,000), which is good enough to be a 1 BHK flat, if you have a lot of money and absolutely no time to hunt for a house. The lavish spread includes a private bar, a snug relaxing chair, 2 LCD TVs, a sofa set and 2 bathrooms (this time with bathtubs).

Keeping in mind its business clients, Daspalla has an impressive business centre with meeting rooms, PC stations, and even a photocopy machine. The hotel has 3 banquet halls - Forum, Symposium and Summit. While Forum can accomodate 250 to 300 people, the other 2 have capacities of 50 to 100 people each.

There are 2 restaurants in the hotel - Coffee Times and Circles. Coffee Times offers breakfast, a la carte items and South-Indian thalis. Cirles, which is a restro-cum-bar and comes with private dining rooms, offers buffet, a la carte items and drinks. The hotel also has a Club Select lounge where the occupants of the suites and the Club Select rooms can hold small parties.

The most promising part of the whole deal is the terrace where 3 attractions are in the pipeline - a swimming pool, a restaurant named Barbeque, and a gym. The sprawling terrace provides a panoramic view of Jubilee Hills and Hi-tech City, and it will be a treat to be there at night, visually tracing the city through its numerous, twinkling lights.

Come to Daspalla if money is not a constraint, and if you want to experience not in-the-face opulence, but luxury that combines comfort and functionality.