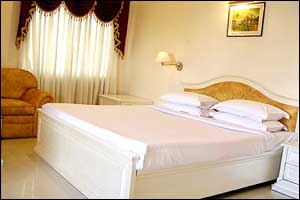 Hidden in the underbelly of the dusty Nampally shanties and slovenly shops, Raj International may not be the proverbial jewel of the Nizam, but does the bourgeois budget dance to a virtue.

As you enter the lobby, the peachy-creamy bright ensemble complete with a chandelier and plush, blending sofas puts a certain pleasantness in the air. The rooms are no different, with glossy floors, happy colors, flatscreen TVs, king-size beds, and spacious baths with tubs (tubs are only in the suites). Conspicuous by their absence are mini-refrigerators, even in the suites.

The rooms are neat and impeccably maintained, but in general small. The deluxe rooms, especially, are a picture of claustrophobic congestion, though with all the amenities of the suites (and, mostly, due to them). For those of you who like it warm, there are non-A/C rooms, too, at the lower end of the price spectrum.

In the age of Epicurean eaters, delectable cuisines and gourmet hotel restaurants, Raj International surprisingly doesn't have an attached diner - they inform, though, that one is under construction (as we write this in March 2008). Not having an inhouse restaurant, however, doesn't necessarily mean you need to worry about going to some place in the unkempt surroundings - Raj has decent enough room service, including a complimentary breakfast, thanks to its inhouse kitchen.

Raj International, like many fellow budget hotels in the locale, is a convenient stop for the mid-zone traveller.
EVENTS AT HOTEL RAJ INTERNATIONAL
There are no events at Hotel Raj International scheduled currently.
LEAVE A COMMENT
fullhyd.com has 700,000+ monthly visits. Tell Hyderabad what you feel about Hotel Raj International!