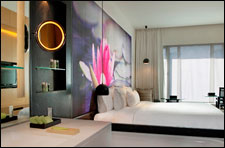 In a corner of the futuristically urban infotech plaza that is the Rahejas' Mindspace IT park, sits the sprawling Westin. The Westin Hyderabad Mindspace is a Starwood property designed for the upmarket business traveller.

If, to the average well-travelled cosmopolitan citizen, the landing at the GMR Airport is an apt start to the story of Hyderabad's international appeal, then a halt at the Westin is a befitting continuation of that story. It is the ideal destination for CEOs and international clients of the companies in Madhapur, and indeed, the Westin boasts of a largely foreign clientele.

A ridiculously vast hall welcomes you – all that space is because the lobby is a sort of a roofed quadrangle, with the roof extending right up to the height of the building, which is 15 storeys. The lobby is large, width-wise, too, and extends into the hotel's open-ended buffet restaurant, Seasonal Tastes.

The Westin boasts of 427 rooms, of which there are 7 types. The prices start from around Rs. 9,000, with the presidential suite costing about Rs. 89,000 (taxes included). In general, the interiors are sleek and contemporary, mostly in browns and whites.

These rooms range from the Deluxe Room, to the massive suites. The rooms are spacious, and have lavish facilities superior to those in most hotels in Hyderabad, including 37-inch flat screen TVs (a presidential suite, by the way, has 4 TVs) and VCR/DVD players, minibars, Internet access, closets, digital safes and work desks.

All of them come with the "Heavenly Beds", supposedly a Westin standard – with 7 layers of bedding, and different kinds of pillows (with one kind stuffed with goose feathers - guests allergic to feathers get special pillows, meanwhile).

Some rooms come with terrace views, but the feature is lost on the sad "under-construction" landscape that the Westin is surrounded with.

As you go up the value chain of suites, the sizes and the facilities present amaze you. The larger suites are as big as 2/3/4 bedroom flats, and come with kitchens (fitted with microwave ovens, toasters and the like), 2-3 bathrooms, dining rooms and office spaces. Some of them are even equipped with treadmills.

Guests of the Executive Club Room are also entitled to the Executive Club, which is a lounge where breakfast is served in the morning and drinks in the evening. This Club also has a board room. Also, the Westin's banquet halls and conference centres are as sizable as you'd expect them to be. A classy pool, a spa and a fitness centre, and the other standard fixtures of hotels are all present.

In addition, there's an Indian restaurant (Kangan) that is open for dinner, and an Italian restaurant (Prego), for the foodies.

If you or your company can afford it, there's no reason why you should not check in here. Even if you have to travel all the way to Secunderabad for business.