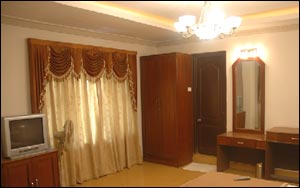 Once the backwater of the twin cities, the Dilsukhnagar-Vanasthalipuram neighbourhood is now a resurgent and thriving center with a zillion businesses and an ever-growing population. Surprisingly, for a neighbourhood as bustling and as flourishing as this, there is just one decent hotel.

Rajadhani Residency is a simple but large building located in Auto Nagar, Vanasthalipuram. Upon entering the hotel, don't be bewildered if you can't find the front desk - this hotel doesn't have a lobby, and the reception is on the second floor. And the comic part is, there's no one to tell you what is where.

Rajadhani has 52 rooms, some of which are elegant while the others average at best. The suites are expectedly swell, with two large rooms with two large couches, comfy chairs, slick tables, a kingsize double bed, and, guess what, two bathrooms! There is a minibar, too, and, of course, a flatscreen TV. The bathrooms surprisingly have no bathtubs.

The other rooms come in two variants - A/C and non-A/C. The A/C rooms offer good value for money in that they're reasonably furnished with queensize beds, marble flooring, TVs, tables, cushioned chairs, closets and clean no-frills bathrooms, while the non-A/C kind have the same stuff but are smaller in size, and the bathrooms have a certain odour making the rooms just about livable.

Rajadhani Residency has an attached veggie multicuisine restaurant, but room service caters to non-vegetarians too.

Being the only decent hotel in the neighbourhood, Rajadhani Residency is a suite surprise with its luxuriously large, value-for-money offerings.
EVENTS AT HOTEL RAJADHANI RESIDENCY
There are no events at Hotel Rajadhani Residency scheduled currently.
LEAVE A COMMENT
fullhyd.com has 700,000+ monthly visits. Tell Hyderabad what you feel about Hotel Rajadhani Residency!