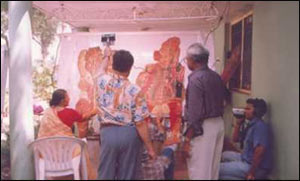 The Hyderabad Puppet Theater, begun 20 years ago, is the oldest puppet theater in the city. Run by a family that is passionate about its art, the place has flourished under that aegis of Rajyalakshmi and Srinivasa Rao, and is all set to live to see a golden jubilee under their daughter, Bindu Madhavi.

Rajyalakshmi is passionate about the art of puppetry. Once given the theme for an event, the family breaks down the show into various items, intersperses dialogue with songs, and sets out making the puppets from scratch. Using household junk that would otherwise find itself in the trash, the three work tirelessly to bring alive the characters they have envisaged.

The Theater is well-versed in the management of both string puppets controlled from above and rod puppets controlled from below. Rod puppets, however, give more scope for movement, and the family prefers this variety.

The Theater performs both at public fora and private parties, and has been well-appreciated throughout the city for its meticulous attention to detail and its ability to entertain through its witty lyrics.
LEAVE A COMMENT
fullhyd.com has 700,000+ monthly visits. Tell Hyderabad what you feel about Hyderabad Puppet Theater (Art School)!