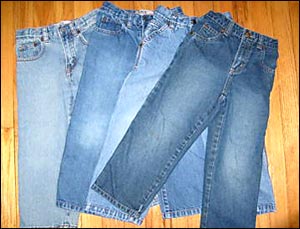 With the explosion of denim stores on every street of our town, the costs have automatically come down. Jeans are no longer expensive commodities. Ha! Have you seen the price tags of Levi's and Pepe? They're not expensive alright. It's just that you'll have to sell off a kidney to buy a pair of them.

So, to the rescue come stores like this, that don't actually let you sell your kidney - perhaps just your house and your dog. The pricing is so affordable that you'd love to go overboard with your budget. Moreover, when you can buy stuff for almost 1/4th of the price in Lifestyle and Stanza, why friggin' hold back?

Jeans Corner is more or less an exhibition. Heavily thronged by people at all times, it gives us a feel of being at the Numaish at Nampally. You can do a Ph. D. on the diversity of human life by visiting this store twice. The varied groups this place attracts makes one wonder if all humans are the same species.

The majority of them would rather buy at a Funtoosh or a Richclass, but have come here for the peeps and got hooked. Others have reluctantly walked in to humor a lowkey friend, but got glued. Others have gone to do profiles and walked back home barefoot, selling their shoes to buy some Jeans.

There's no describing what you get here: straight-fits, tights, boot-cuts, parallels, anti-fits, pre-faded, sandblasted, sheen, monkey-wash, stonewash, corduroy, crossfire and other unexplainable mutations of this cloth.

The broad pricing is from Rs. 200 to Rs. 800, with the best buys around Rs. 400. At this price you get some radical and classic fits in irresistible shades of blues and blacks. And don't be shy to negotiate the price; they won't shoot you. Get what you want at almost the price you'd be proud of.

After leaving the place, you'd be haunted by Hamlet in his faded Jeans. Wherever you go, you feel the eyes upon you, with denim eyelashes. It will spook you out but you would want to return to this fortress of Jeans anyway.
EVENTS AT JEANS CORNER (DILSUKHNAGAR)
There are no events at Jeans Corner (Dilsukhnagar) scheduled currently.
LEAVE A COMMENT
fullhyd.com has 700,000+ monthly visits. Tell Hyderabad what you feel about Jeans Corner (Dilsukhnagar)!