Konark 70mm (Dilsukhnagar)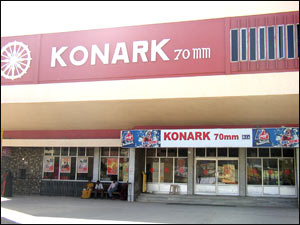 You are unlikely to be able to attract any fan following by telling your friends that you have watched a film in Konark. You just quietly steal a show, have all the fun if the film turns out to be good, and let the others live in ignorance.

Located near the Dilshuknagar bus-stand, Konark is one of those old-styled theaters with a balcony (Rs. 35), upper circle (Rs. 33) and a lower class (Rs. 15). It is mostly people from the neighborhood that frequent this cinemal hall. You aren't likely to find any boisterous crowds, but at the same time you are not likely to find any hep ones either.

The theater screens mostly Telugu flicks. There is no specific pattern to the kind of films that are shown - anything and everything under the sun has a fair chance of being screened. The hall has all the amenities required of a good cinema hall – a good seating capacity, a functional air-conditioning system and ample parking facility. The interiors have been renovated recently (we write this in Feb 2006), and it'll take some time before you see some wear and tear. The balcony also has a provision for couples who cannot bear the agony of sitting on two separate chairs for a full 2½ hours.

Konark has a 70mm screen, so you get to figure out what's happening however far you are seated. The Dolby stereo system here might not give you a real 3-way surround experience, but it is much better compared to some of the other theaters that are priced at the same level. Overall, the hall provides a good movie-watching experience.

In Hyderabad, cinema was always entertaining and inexpensive thanks to theaters like Konark. Amidst the onslaught of the new age exorbitantly-priced multiplexes, theatres like these keep films within the reach of common people. It is a decent place to catch a flick along with your family. After all, when you go to a film with your family, you are expected to maintain decency and not look around, an urge you cannot resist at the outrageously high-priced hi-fi theaters.
KONARK 70MM (DILSUKHNAGAR) SNAPSHOT
Listed In

Address

6-12, Opposite Dilsukhnagar Bus Depot, Dilsukhnagar, Hyderabad - 500036

20 users say this is wrong.

Telephone

Email

Distance

Air Conditioned

DolbyDTS

Tele-Booking

Year Started

Closed On

Prices

Rs. 60, Rs. 40, Rs. 25, Rs. 10

Payment Option(s)

Closest Bus Stop

Closest MMTS Station

Add New Field:
MOVIES AT KONARK 70MM (DILSUKHNAGAR)
There are no movies at Konark 70mm (Dilsukhnagar) scheduled currently.
LEAVE A COMMENT
fullhyd.com has 700,000+ monthly visits. Tell Hyderabad what you feel about Konark 70mm (Dilsukhnagar)!