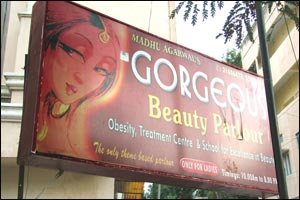 Sure enough, beauty isn't skin deep, but really, there is no reason why the depth until your skin should not be beautiful. And the fine ladies at Gorgeous will do everything they can, and then some, to make sure that it is.

With over 60 kinds of just facials, massages and aroma therapy options, and a gazillion treatments (for pigmentation, pimples, open pores etc.), Gorgeous has an exhaustive repertoire of services. The parlor offers a wide variety of hair styling - hair cuts, coloring, setting, perming, straightening, curling and the works. It has its own brand of face packs as well, and these are extremely popular all over town.

Its plethora of services is supplemented by a unique ambience - the parlor arranges itself in a very rural fashion, to symbolise its belief in the goodness of the traditional and natural ways of styling.

Gorgeous also offers other basic services like hand/feet care, threading, waxing and bleaching. And apart from all these, the parlor has courses in self make-up, and also doubles up as a training institute for aspiring beauticians.

Gorgeous' USP is hygiene. And when we are talking about the really intimate things that we ladies get done there, hygiene is no trivial matter.

If you are looking to get that little bit extra from your trip to the parlor, make a stop here.
LEAVE A COMMENT
fullhyd.com has 700,000+ monthly visits. Tell Hyderabad what you feel about Madhu Agarwal's Gorgeous Beauty Parlor!