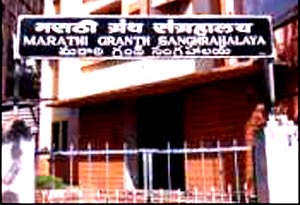 The three-lakh strong Maharashtrian population and the floating computer specialists reaching Cyberabad from Maharashtra look to MGS as their link with the far away Marathi literature and culture. Housed in an impressive two-storeyed building, the MGS makes you forget the din and bustle of the busy Koti road. To the right of the entrance is the Reference Room. In the free Reading Room, where silence reigns supreme, members are busy browsing through newspapers, magazines and books. The efficient staff of this first-ever-computerized library can access in a jiffy any of its 20,000 titles.

New books, at least 10, are added to the collection every Tuesday. Come October/November, you can treat yourself to the special Diwali issues of the countless Marathi magazines. This spacious and sparsely but tastefully decorated library is a meeting place for Hyderabadi Maharashtrians. Here they revive their Marathi moorings through all sorts of cultural activities round the year. In fact, MGS prides itself on the feeling of familial togetherness amongst its members.

MGS, which boasts of rare books published in and around the 1920s, gave a fillip to the Andhra library movement during the days of its inception. The 1960's Library Act was fostered by the Library Science classes initially conducted in the MGS premises.

The library, which celebrated its Platinum Jubilee in 1997-98, houses, on the second floor, the Hyderabad chapter of the Marathi Sahitya Parishad which has under its roof very rare manuscripts. MGS has motivated the Library Science studies in Andhra Pradesh, and is run by a body elected by the members. The governing body, in other words, is aware of the needs, hopes and expectations of the membership and welcomes members' suggestions, which makes it an institution by itself.

If you are an ordinary member, you can borrow a book for a fortnight while patrons can avail of two books every 15 days.
EVENTS AT MARATHI GRANTH SANGRAHALAYA
There are no events at Marathi Granth Sangrahalaya scheduled currently.
LEAVE A COMMENT
fullhyd.com has 700,000+ monthly visits. Tell Hyderabad what you feel about Marathi Granth Sangrahalaya!