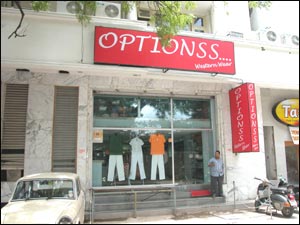 Wondering why this store is spelled Optionss with an extra 's'? Well, Optionss is quite large when compared to the other stores in White House, and is basically divided into two levels, with the lower one having clothes for men and the upper one for women. Oh, well, you asked.

Anyway, let's start from the lower level: this is what you will see first if you've chosen to use orthodox ways of entry, and the range of clothing for men is agreeable. The clothes here include shirts, T-shirts, Jeans and trousers, all priced between Rs. 200 and Rs. 2,000.

At the upper level, we have the women's clothing line. To define these outfits in bland terms, you would just have to call them unique. Optionss claims that 99% of its clothes are imported, and maybe that is the reason that the clothes here are different. They have skirts, T-shirts, shirts and all the other clothes that a teenage girl could ask for, all priced between Rs. 300 and Rs. 4,000.

Optionss is obviously a place for the college crowd, and even then you will have to beg mommy for money.