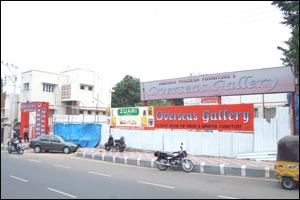 You're greeted by fluted sandstone Grecian columns, chipped to look authentically antique. Thankfully, this is Overseas' only attempt at Victorian grandeur; the rest of the store is quite sensible.

The huge floor space covers everything in the home range; a decent range of sofa sets, dining room furniture and beds, but the choice in this last category is somewhat limited. The store also stocks quite a few decent, if not rapture-inducing, artefacts. You'll also find some lovely wooden, metal-inlaid swings. And a fireplace. Mysterious are the tastes of the modern Hyderabadi shopkeeper.

The price is kind of okay, too, but what makes it attractive is the wide choice available; for e. g. Rs. 5,000 to Rs. 2 lakhs for a dining set. You might not want to travel to get here, but if you're in the area, Overseas is worth a browse-through.
EVENTS AT OVERSEAS GALLERY
There are no events at Overseas Gallery scheduled currently.