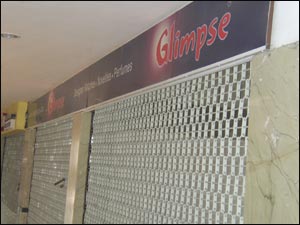 What would you get if you crossed Venetian crystal with Chinese workmanship? If you don't know either, a visit to Glimpse might help. This home furnishings store has a vast collection of imported goods, ranging from centerpieces, fountains for the living room and beautiful vases to glassware for your bar and a selection of crockery. A few pieces of gold-plated crockery add an opulent touch to the assembly.

Oddly, the store also stocks Parker pens, leather handbags and clothing for infants, which, though in no way related to the furnishings, are all imported. The prices are predictably high, with the smallest of fountains costing a hefty Rs. 4,500.

The odd Indian brand visible in the crockery section is relatively inexpensive. A good collection of microwave-able cook-and-serve dishes is also on display. The relaxed and laidback atmosphere of the store is inviting. The service, however, is merely passable.