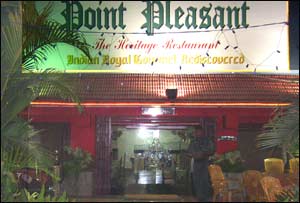 The Scene
They really could have done more to make it look better than a slightly upmarket canteen or dhaba. Point Pleasant uses an almost flourescent shade of cream as the central theme, and coupled with an umimaginative layout - the kind you find in every mid-market Southie diner - ends up looking pretty blah. And someone should tell them that tablecloths, aside of going out of fashion even in homes, make it messy for the guests, especially when they want to use the tables to lend support to their hands.

Located in a small lane off a relatively serene part of Road No. 10, Point Pleasant has outdoor and indoor dining sections. The biggest reason to eat outdoors would be enjoying a smoke, and the biggest to eat indoors would be some family cabins that afford some privacy. Otherwise, it's easy to vacillate and finally make a wrong decision.

The interiors can look more like seating arrangement in the dining section of a function hall than that in an slick downtown restaurant - the random pillars in between don't help. And the partitions of bamboo staffs look more like a confused attempt to lend any character. The staff don't look really trained, either - they stick to the absolute basics. Indeed, if you are going to Point Pleasant, it has to be for the food.

The Food
Point Pleasant specializes in Hyderabadi and Awadhi (Lucknowi) cuisine, and when we say specializes, specializes it is. The slickly done menu showcases the pride of knowledge and passion, and it translates into the items in your order.

The menu is brief - a couple of dishes in each of chicken, mutton, vegetarian and rice in Hyderabadi and in Awadhi cuisine, a dessert in each, and about 10 kebabs, aside of half a dozen vegetarian gravy curries (we can almost see the Chinese addition coming - you have to be really idealistic in Hyderabad to afford not to add Chinese cuisine to your menu). But they do bring the original taste of the land out. The portion sizes are generous, and even a Baigan Methi tasted the way it does at home. And the vegetable biryani actually has aloo pieces in it.

The names are tempting - Qutb Shahi Murgh, Dum Ka Murgh Asifi, Murgh Begum Bahar, Awadh Ki Nihari, Lagan Ka GoshtKoh-E-Awadh, Sheer Branj, Sheermal, Taaftan, Galawati Kebab, Kebab Qalmi, Kebab Makhmali, Kaddu Dalcha and even Tomato Chatni. So are the prices - biryanis cost Rs. 120 (veg is Rs. 95) as we write this in Mar 2008, and the average cost of a meal per couple is Rs. 250. And the hookahs outside are a good, er, draw - Rs. 150-250 per filling depending on flavor.

The cutlery - completely in china, including the glasses and pepper shakers - at Point Pleasant also deserves a mention. A uniform pattern in strong colors lends the restaurant something of a much-needed signature.

The Verdict
People likely to eat out in upmarket Banjara Hills have unfortunately usually seen a lot of class. Then, they also eat at Paradise and Shadab. Point Pleasant belongs to at least one of those sentences. Now it's on to you.