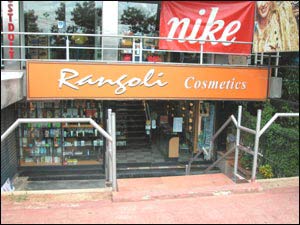 The desire to knock a few years off your age roster, a feat of some difficulty if 'passing you under the knife' is not an option, has led to a burgeoning market for beauty products and the beauty marketers. Rangoli is one of them. But it goes further. By offering a safe burial to all your minor ills and pains through some rare and exotic aromatherapy potions, it espouses to make you gorgeous, inside-out.

RK's Aromatherapy oils and Aroma Magic's liquid formulations are Rangoli's forte. Both these brands are available in a variety of bottled panaceas to cure all the pains that your body can think of. There is Lavender oil for migraines, Marjoram oil for your skin, and Sesame for your heart. And all these wonders are available at prices between Rs. 58 and Rs. 750 per 10ml bottle.

Rangoli also has a commendable collection of perfumes including brands like Versace, Red Jeans, Hugo, Estada, Davidoff Coolwater, Fendi, Azzarro, Cindy Crawford, Pierre Cardin, Ralph Lauren and Carrera.

In addition to these, you'll find products of Biotique, Jergen, Fruit Of Earth, St. Ives, Shehnaz Hussain, Freeman, Neutrogena, Garnier and Lakme. Diana Of London, Revlon and Lakme cosmetics supplement the range of hair-coloring products available from Godrej, Garnier and L'Aureal.

Not exactly going over the brink with its beauty-care range, Rangoli provides alternative options. No, not alternative-beauty definitions - just different means of attaining it.