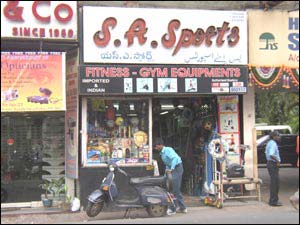 S A Sports is an amazingly spacious shop, if you're a rat. But this is one place that really proves that size just doesn't matter, whatever Godzilla might want to say.

A proper hole-in-the-wall kind of a shop that's been here since 1955, S A Sports is a sport lover's paradise. The store ends before it begins, but magically, seems to hold an amazing variety of sports goods to satisfy every taste. Everything from sportswear to fitness and sports goods cricket, tennis, basket ball, football, badminton, et al and mementoes find ample shelf space here. Brands like Cosco, Vector, Yonex and Head dominate the racks and put up quite a display. On top of that, the shop assistants are more than willing to bring it all down on you to help you make your decision, and might even go so far as to suggest a few brands, but please co-operate when they ask you to put it all back yourself.

For that elusive sports person in you seeking desperately to emerge, this is the best catalyst there is.
LEAVE A COMMENT
fullhyd.com has 700,000+ monthly visits. Tell Hyderabad what you feel about S A Sports (Sporting Goods)!