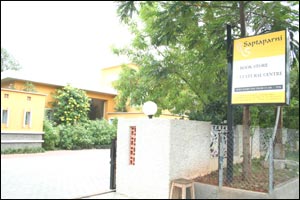 Saptaparni was born in 2004 out of a desire to provide an ideal learning environment that promotes inter-generational bonding, and facilitate the acquisition of new skills. The idea is to elevate leisure into an art form, beyond the dominion of TV reruns or video games. Lush-green well-manicured lawns, the orange paint and the potter's wheel give the place a very surreal, well, for want of a better word, illuminative, feel.

The organization's objective is to bring Indian culture and heritage back into our lives. It is halcyonically heartening to see Kardi Tales and the Panchatantra share shelf-space with Asterix and Tintin in the bookstore.

The Toy Shop is something else. It stocks games that, maybe, our great grandfathers engaged in - Chaupad, Parama Pada Sopanam, Dahdi, Kalanay Belanay, Ashtaa Chemma, et. al.

And since it is an after-school activities joint, there are loads of avocations the kids can take up. It offers violin, piano and tabla lessons, pottery classes, and sloka-chanting classes. They are quite popular among the parents, too, especially the moms.

There is a very pretty (that is the only word you can use to describe something as cute as it is) amphitheater in the backyard that comfortably seats 150 people, and about 200 if all the fundas of Indian crowds are applied.

So the next time your kid says "Mom, I am bored!", you can actually be in a position to give her an alternative, even if you are her dad. But we do recommend you find out why she called you "Mom".
EVENTS AT SAPTAPARNI (AFTER SCHOOL ACTIVITIES)
There are no events at Saptaparni (After School Activities) scheduled currently.
LEAVE A COMMENT
fullhyd.com has 700,000+ monthly visits. Tell Hyderabad what you feel about Saptaparni (After School Activities)!