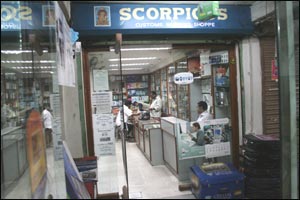 It's a custom-notified novelty shop, or so the hoarding wants you to believe. The name, of course, might conjure up other images in your head, but Scorpious has nothing to do with poisonous creepy-crawlies, the zodiac, or for that matter, even with the common definition of 'gifts'.

You find none of the stuff that you find in most other places that claim to be gift shops. To be fair to Scorpious, there is the obligatory display of a set of glasses and the odd lampshade, and then, of course, there's no reason why every gift shop must stock exactly the same things.

As you look around the store, though, you can't help feeling that it really should have been called just an electronics store instead. Because those, it has a whole range of. Cell phones, cell phone covers in colors that you probably didn't know they came in, batteries that you'd know the use for only if you are really into that sort of thing, the latest in headphones, imported hairdryers and also calculators-those that can easily slide into your pocket, and those that are better off sitting on your desk. Basically, it's gizmos galore at Scorpious.

Probably not the place for a fine-necked flower vase, but if it's electronics you dig, you might enjoy a trip to this store.