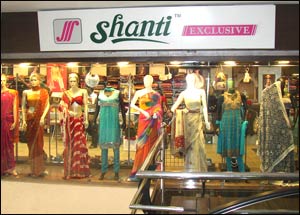 Just the sort of place a 19-year-old with everything but Dandia on her mind before the onset of the Navratris, will revel in - sequins, glasswork, beads details on lehengas, saris, dress material, hand bags, mobile pouches and hair clips is what Shanti Exclusives does best. Did we mention hair clips?

Part of a group that has been around Hyderabad for almost 25 years, longer than most of its partons, this outlet at Banjara Hills is the eighth of its kind. The line here includes kids' and womens' ethnic wear, in both cotton and other more highly embellished materials.

The bridal line allows for a pretty streamlined process, where the lucky bride gets to choose her outfits from a design catalogue, specifies the colors and add-ons, provides the measurements, gets her credit card swiped, and waits a few days for her sartorial dreams to come true - all for anywhere between Rs. 10,000 and Rs. 60,000.

The store also has something for the slightly older than the blushing bride age-group. There is party wear available for those ornately inclined. Most of the heavy, hand-worked wares start at Rs. 2,500, but there are cotton salwar dress materials starting at Rs. 700 too.

Coupled with matching faux-jewelry and other accessories mentioned earlier to complete that well-put-tegether look, and the tailoring facilities at hand to go the last mile, make this a one-stop shop indeed.
EVENTS AT SHANTI EXCLUSIVES
There are no events at Shanti Exclusives scheduled currently.