Sri Satya Sai Nigamagamam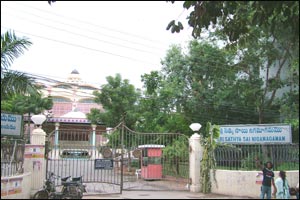 Satya Sai Nigamagamam is a kalyana mandapam, after all, so mostly weddings happen here. But when there's no floral arch outside with 'Sunitha weds Rajesh' on it, other stuff happens here too. The hall is quite huge, so it's popular for business symposia and technology talks - a lot of companies have their annual conferences here. There's also the occasional computer convention and discount exhibition for the interested techie geek or up-to-date homemaker. And there's the annual silk saris sale that women throng to.

Other attractions include religious and spiritual talks and discussions. Mata Amrithanandamayi is a regular here, and other speakers from the religious TV channels like Aastha frequently hold forth on life here as hundreds listen, enthralled. Classical music performances are popular, too - Pandit Hari Prasad Chaurasia played magic on his flute here once.

The Nigamagamam is a major landmark in the area, and eats up all the electricity while other people suffer in the dark heat of their tiny homes.
SRI SATYA SAI NIGAMAGAMAM SNAPSHOT
Listed In

Address

Telephone

040-2374-1450, 040-2374-2745

2 users say this is wrong.

Email

Distance

Website

Air Conditioned

Year Started

Timings

Closed On

Prices

Payment Option(s)

Other

Closest Bus Stop

Closest MMTS Station

Add New Field:
LEAVE A COMMENT
fullhyd.com has 700,000+ monthly visits. Tell Hyderabad what you feel about Sri Satya Sai Nigamagamam!